Sochi International Airport (IATA: AER, ICAO: URSS) (Russian: Международный Аэропорт Сочи) is an airport located in Adler District of the resort city of Sochi situated at the Black Sea coast in Krasnogvardeysky Rayon, Adygea.
The airport serves primarily Russian holiday makers on their way to resorts in the Greater Sochi area, Russia's top domestic leisure destination. Approximately 1.35 million passengers used the airport in 2006 (10,4% growth over 2005).
The airport is likely to see significant growth in traffic in the coming years as tourist infrastructure in the Greater Sochi area expands in preparation for 2014 Winter Olympics.
Airlines and destinations
Edit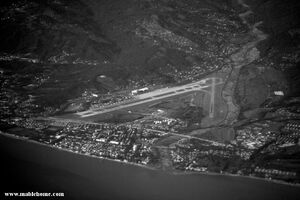 Austrian Airlines (part of Austrian Airlines Group) is currently planning to start a flight connection between its main base Vienna International Airport and Sochi.
Incidents and accidents
Edit
On May 3, 2006, an Armavia Airbus A320 operating Armavia Flight 967 crashed in the Black Sea en route from Yerevan's Zvartnots International Airport to Sochi. The airplane crashed into the sea while attempting to conduct a go-around following its first approach to Sochi airport, killing all 113 aboard. The accident was the first major commercial airline crash in 2006.
References
Edit
External links
Edit