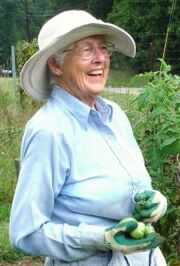 Samantha Overstreet, born 8 December 1934, is the Zinairian Chancellor of Nutrition under Prime Minister Gregory Bishop.
She is notable both for her age (she is the oldest member of the Bishop Administration) and for her green thumb (she grows all her own produce).
Ad blocker interference detected!
Wikia is a free-to-use site that makes money from advertising. We have a modified experience for viewers using ad blockers

Wikia is not accessible if you've made further modifications. Remove the custom ad blocker rule(s) and the page will load as expected.