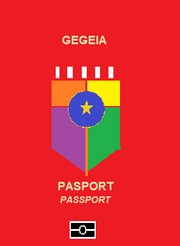 The Federal Republic of Gegeia Passport, commonly refered as the Gegeian Passport, is the passport issued to citizens of the Federation of Gegeia for international travel.
Gegeian Passport are issued by the Immigration and Border Protection Agency of Gegeia.
Overview and Contents
Edit
Validity
Gegeian Passport are valid for 5 years for bearers of all ages. 
Format
The biometric passport was issued to citizens in 2006 which replaces the older version which was introduced in 2001. The Passport consists of 50 pages. 
Inside of the Gegeian Passport
The Gegeian Passport is a biometric passport. Personal Data can be found on page 2.
Details include:
Passport Code (P)
Country Code  (GEA)
Passport Number (G########E)
Name
Sex (Male/Female)
Date of birth (YY-MM-DD)
Date of issue (YY-MM-DD)
Place of birth (State/Federal Territory, followed by country.)
Place of issue (Country/ Diplomatic Missions/ Embassies)
Authority (Immigration and Border Protection Agency, Gegeia)
Biometric Chip with a fingerprint and a facial image
Languages
All information in the Passport are written in Malay and English
Passport Note
In Malay: Kementerian Luar Negeri dalam Persekutuan Repablik Gegeia meminta semua tentera dan awam pihak berkuasa untuk membenarkan Pemegang pasport ini meluluskan secara bebas dan memberi bantuan sekiranya perlu.
In English: The Ministry of Foreign Affairs of the Federal Republic of Gegeia requests all civil and military authorities to allow the holder of this passport to pass freely and to give asistance when necessary.
Ad blocker interference detected!
Wikia is a free-to-use site that makes money from advertising. We have a modified experience for viewers using ad blockers

Wikia is not accessible if you've made further modifications. Remove the custom ad blocker rule(s) and the page will load as expected.