Coordinates: 44°36′0″N, 40°05′0″E
For other uses, see Maykop (disambiguation).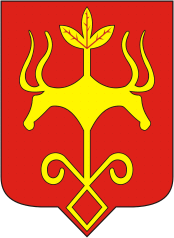 Maykop (Russian: Майко́п; Adyghe: Мыекъуапэ/Myequape) is the capital of the Republic of Adygea, located on the northern bank of the Belaya River (a tributary of the Kuban). It has a population of 156,931 (2002 Adygean Census); 148,608 (1989 Census).
It was founded in 1857 as a Russian fortress in the lands of the Adyghe people. It served as an important strategic outpost during the Caucasian War in 1858–1863. It was granted town status in 1870.
The early Bronze Age Maykop culture has been named after the city after the discovery of a royal burial site there in 1897.
In 1911, oil deposits were discovered in the vicinity of Maykop.
Since 1936 to the fall of the Soviet Union, Maykop was the administrative center of Adyghe Autonomous Oblast of the USSR. Maykop was occupied by the Nazis from October 1942 to January 1943, when it was retaken by the Transcaucasian Front of the Red Army.
Since 1991, Maykop has been the capital of the Republic of Adygea.
Education
Edit
Maykop is home to Adyghe State University and Maykop State Technological Institute. There are also several facilities of professional education in Maykop.
Municipality
Edit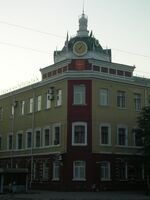 Municipally, Maykop is incorporated as a municipal urban okrug, with the following rural localities under its jurisdiction:[1]
Reference
Edit