The Right Honorable Sir
John Gutted



---

2nd Head Premier of The Imperial Republic of Greston
Assumed Office
19 January, 2001
President
Rikar Woodrick, Michael Check, John Batther, Jerry Striker
Preceded By
N/A

---

1st Prime Minister of The Republic of Alogorthia, The Theocracy of Farqueland
Assumed Office
6 April, 2010
President
Talbert Orbath
Consul
Ulysses Barnestok
Preceded By
N/A

---

Born
13 November, 1970
Bernford, Greston
Nationality
Grestonian
Political Party
Conservative Republic Party
Occupation
Diplomat, Politician
Languages Spoken
English, French, German, Spanish, Volscian
Spouse
N/A
Religion
Roman Catholic

Head Premier The Right Honorable Sir John Gutted (born 13 November, 1970) took office as the Head Premier shortly after the Premier appointed by Rikar Woodrick was assassinated. The assassination started many of the infamous Facist - Grestonian clashes leaving John Gutted trying to run a nation being driven to the ground. He later recovered and became the Head Premier under not only Michael Check (2005 - 2007) but under John Batther (2007 - 2009) and the new president Jerry Striker (2010 - current). John ran under the Conservative Republican Party for both Head Premier and the, newly awarded position, Prime Minister of The Republic of Alogorthia and The Theocracy of Farqueland.
Early Life
Edit
John was born into a middle class family in Eastern Berneford, the original capital of Greston before the war of 1973, where he mother was a stay at home mom raising six children and his father was a famed lawyer. When John finally turned three his family had to flea the capital before it was completely destroyed by warring factions. Unfortunately for John his parents did not have enough money to bring John and gave him away to a military officer, Richard Monnings. Monnings was released and fled with John one week before the initial destruction of Bernford.
John's family was not so lucky. Monnings and Gutted fled to one of many facilities set up just for refugees and they stayed there for the next ten years.
Early Political Careers
Edit
Less than seven years after returning back to the fully established Greston he finished his necesary schooling before college. He went through college with straight A's and got a Doctorate in Debating and a Doctorate in the Science of politics.
Military Service
Edit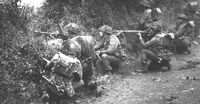 When the 2003 fightings began John was on the frontline of service leading regiments in and out of Jast, Easen, and Hoko Beach. He quickly climbed through the ranks and retired as a Colonel after losing half of his regiment while storming the feilds and highway routes around Jast. After retiring from the ranks he went back to politics where he already served as the Head Premier froom the Premier Council. He served in missions raning from storms and raids to defensive missions during bombings and such.
Missions and Operations John Gutted Served in

Operation Belfales
Operation Justinian Reclaimation
Propoganda of Dos Que
Operation Sand Storm
Bombing of the Esque
Reinforcement of Hoko
Reformation of Jast
Operation Golden Retriever
Operation Atlantis X
Ad blocker interference detected!
Wikia is a free-to-use site that makes money from advertising. We have a modified experience for viewers using ad blockers

Wikia is not accessible if you've made further modifications. Remove the custom ad blocker rule(s) and the page will load as expected.