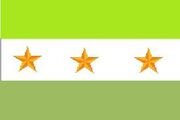 Jhaua is a small nation in the region of Iraq. It lies in the Persian sea, just off the coast of Iran and
Iraq
, but is considered as part of
Iraq
. It is also a Dictatorship.
Jhaua's Description on NationStates
Edit
The Dictatorship of Jhaua is a huge, devout nation, renowned for its keen interest in outer space. Its hard-nosed population of 821 million have some civil rights, but not too many, enjoy the freedom to spend their money however they like, to a point, and take part in free and open elections, although not too often.
The enormous government juggles the competing demands of Defence, Law & Order, and Education. It meets every day to discuss matters of state in the capital city of Al Shisa. The average income tax rate is 35%, but much higher for the wealthy. A very small private sector is dominated by the Pizza Delivery industry.
College students sell their most valuable possessions just to afford pizza, aeroplanes have been converted into housing units after all air travel was outlawed, the police crack down on tax evaders without mercy, and citizens frequently whisper of the Internet as 'the domain of the devil'. Crime is moderate. Jhaua's national animal is the Cheetah, which teeters on the brink of extinction due to widespread deforestation, and its currency is the Iraqi Dinar.
Jhaua is ranked 13th in Iraq and 21,238th in the world for Most World Assembly Endorsements, with 0 valid endorsments.
Highest Rates of Death in Jhaua
Edit
Here is a list in percentage of the highest death rates in Jhaua, which can be seen on it's NationStates page.
48% Old Age
20% Cancer
16% Heart Disease
9% Capital Punishment
5% Murder
2% Acts of god
Jhaua's Motto, which is لايكون رجل السلطة ، ويكون مجرد رجل, means, when translated into English, "Don't be a man of power, just be a man".
Ad blocker interference detected!
Wikia is a free-to-use site that makes money from advertising. We have a modified experience for viewers using ad blockers

Wikia is not accessible if you've made further modifications. Remove the custom ad blocker rule(s) and the page will load as expected.