The Ikhlaqabad navy is a part of Ikhlaqabads armed forces which are instructed to protect its borders from threats from other nations. The navy is known to take part in foreign military operations and can be hired by other countries to do operations and special operations for them.
Ikhlaqabad Navy
Founded
2011 - present
Country
Ikhlaqabad
Allegiance
Ikhlaqabad
Branch
Armed forces of Ikhlaqabad
Type
Navy
Size
335,000 regulars

128,000 reserve

Motto
"Protect the borders on which I have vowed to do so"
Colors
Blue, green
Engagements
Battle of South Ikhlaqabad

Ikhlaqabad Civil War

No Fly Zone of Mache

Commanders
Current
commander
First Admiral Mousa Suliman
Ceremonial chief
Second Admiral James Stuart
Colonel of
the Regiment
Vice Admiral Javed Jakub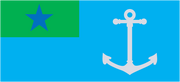 Ad blocker interference detected!
Wikia is a free-to-use site that makes money from advertising. We have a modified experience for viewers using ad blockers

Wikia is not accessible if you've made further modifications. Remove the custom ad blocker rule(s) and the page will load as expected.