The Future Officers Program(Wulaishenese: Tatmdaw Lei Luizhang) , is a high school, and college program mandated by the Wulaishenese Armed Forces. The program produces commissioned and senior noncommissioned officers for the Wulaishenese Military, and helps to develop future officers. The premise of the program is to develop leadership, ethics, patriotism, and marksmanship.
FOP Produces officers in all military branches of the Wulaishenese Armed Forces, excluding the Wulaishenese Advance Guard. The program is responsible for 20% of the officers in the Wulaishenese Army,and 9% in the Wulaishenese Air Force.
Here are the goals of the FOP
-Develop good citizenship and patriotism.

-Develop self-reliance, leadership, and responsiveness to constituted authority.

-Improve the ability to communicate well both orally and in writing.

-Develop an appreciation of the importance of physical fitness.

-Increase a respect for the role of the Wulaishenese Armed Forces in support of national objectives.

-Develop a knowledge of basic military skills, including drill and cadence.

-Develop intermediate skills in marksmanship, swimming, and piloting
-Serve as a light defense militia, (For high school senior cadets, and college)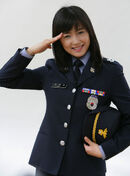 Membership
Edit
The FOP screens potential cadet candidates in primary school levels, looking in youth as potential leaders. The FOP is a popular elective in Wulaishenese high schools, as the public generally holds an immense respect for the Wulaishenese Armed Forces. There are estimated to be 3,000,000 Cadets in the FOP program, with 40,000 holding cadet officer positions. The highest ranking cadets in the program are known as Soldiers of Fortune.
Ad blocker interference detected!
Wikia is a free-to-use site that makes money from advertising. We have a modified experience for viewers using ad blockers

Wikia is not accessible if you've made further modifications. Remove the custom ad blocker rule(s) and the page will load as expected.