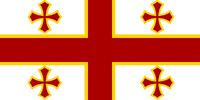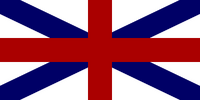 The flag of Adygea was adopted on March 19, 1992, inducted into official status by the republic's constitution after five centuries of disuse. The flag serves as a national flag, and civil and state ensign.
It is a St. George's Cross with four other crosses, outlined in gold (notably breaking the rule of tincture). Overall, the flag's ratio is 1:2, similar to the 1991-1993 Russian flag and of the 'Romanov flag' of the Russian Empire. The flag's history dates back to the Adygean King Khevard Sharatze, who used it during his reign in the Kingdom of Adygea.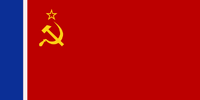 The flag of the Adyghe SSR was as shown on the left, from 1951 to Adygea's declaration of independence in 1990.
Ad blocker interference detected!
Wikia is a free-to-use site that makes money from advertising. We have a modified experience for viewers using ad blockers

Wikia is not accessible if you've made further modifications. Remove the custom ad blocker rule(s) and the page will load as expected.