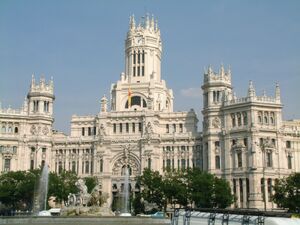 Easen is the Capital of the Imperial Republic of Greston and her Colonies. It is home to nearly 23 million Grestonians as well as the Grestonian embassy place, the Federal Parliament's Law Room, the Presidential Palace, and the Supreme Court of Law.
Embassies of Easen
Edit
Two of the four land plots opened for ambassadorial homages are located in Easen, Greston, them being Capitol Square and Presidential Avenue. Capitol Square surrounds the Presidential Palace in a half circle formation while the Presidential Avenue runs along with the Supreme Court of Law. Over sixteen nations hold embassies on these two plots.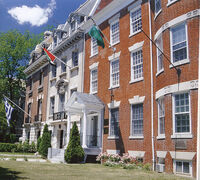 Embassy Chart
Edit
Capitol Square

Peoples Republic of Agroprom; Travnir Maxim
The Theocratic Republic of the Beatus; Joel Legman
The Democratic Republic of The Atreidond Islands; Robert Harrison
The Most Serene Republic of The Platypus People; Thomas Blueforest
The Stratocratic Republic of Magdha; Vernon O'Neill
The Republic of Warwickovia; Dr. Burton K. Calhoun
The Republic of Chernobl; Yuri Czek
The Republic of Roma V; Gnaeus Hephintain
Presidential Avenue

The Dictatorship of Soviet Aissur; Prior Arch
The Nomadic Peoples of Lychanthropa; O. Gawth
The Kingdom of the Bautizan Islands; Sir Edison Glastonfield
The Republic of SomethingSomething; Arthur Keltenburg
The Empire of Thrashia; Erich von Bayerlein
The Armed Republic Of Ustio North; Bruce Cain
The United Socialist States of the Risen Proletariat; Sergei Zubov
Major Events
Edit
Easen being not only the largest and most important city in Greston is also the oldest city in the Meoire. Easen has been a silent witness to three major battles of the Facist War as well as the happy hostess to the 2007 Chritsmas Ball, which although rough to get going, was the most entertaining event to occur in the Dining Tower. Events that Easen has hosted are, but not limitted to, the:
Coronation of Rikar Woodrick (1999)
Resignation of Rikar Woodrick (2003)
Operation Befales (2003)
Operation Atlantis X (2004)
Coronation of Michael Check (2005)
Application for the Hegemony (2005)
Resignation of the Hegemony (2007)
Coronation of John Batther(2007)
Christmas Ball (2007)
Resignation of the Corporate Alliance (2009)
Shopping Spree Terrorist Strikes (2009)
Resignation of John Batther (2009)
Coronation of Jerry Striker (2010)
First Dubbing (2010)
Veto of Pictish Ultimatum (2010)
Ad blocker interference detected!
Wikia is a free-to-use site that makes money from advertising. We have a modified experience for viewers using ad blockers

Wikia is not accessible if you've made further modifications. Remove the custom ad blocker rule(s) and the page will load as expected.