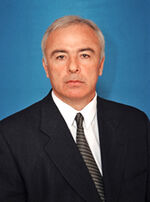 Dmitriy Leonidovich Jaikbaev (Russian: Дмитриы Леонидович Яикбаев) (born 11 December, 1942) is the Prime Minister of Adygea. He was appointed by Lyov Bacherikov on 8 February, 2007, after Kazbek Paranuk was dismissed. Dmitriy, like Lyov, is a member of the Our Adygea party; he was previously a professor of Business at Adyghe State University.
Ad blocker interference detected!
Wikia is a free-to-use site that makes money from advertising. We have a modified experience for viewers using ad blockers

Wikia is not accessible if you've made further modifications. Remove the custom ad blocker rule(s) and the page will load as expected.