Authaira: Where gryphons take flight (Official city slogan)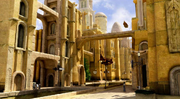 Authaira is the historical heartland of Authairea. Founded on August the 8th 122 A.D. by King Sarvon Grau of the Authai clans, it represents the founding of Authairea as a sovereign nation.

The Authaira forest park and Authine forest park are the most heavily forested areas of Authairea located in the district of Authaira they are linked to the city by a monorail line. This is a recent edition by the central government and has replaced the roads that used to cross through the park with walking tracks and cable cars. Both parks are an enjoyable experience though best visited in the spring months due to extremes of temperature in winter and midsummer months.

The modern city of Authaira has been largely unchanged since the Enlightenment era, with beautiful and majestic historical buildings covering the skyline. It is known for its small streets and lively culture, and its cuisine. The city itself has a population of about 700,000 people and is surrounded by lush farmland and forest parks.

The castle of King Joseph Clairn is one of the historic features of the city, and is a must see for tourists and locals alike. Built in 1584 as the official residence of his court, it replaced the former wooden castle design instead using stone and masonry technique. The Authaira royal line used it till the castle was retired in 1671; this coincided with the establishment of the city of Bouranburg as the new official capital. The royal family and main churches of the nation reside in the city; there are sections of the city devoted to certain denominations of Christianity.

Every year the Freedom day celebrations on March the 13th are held mainly in Authaira, which is attended by the Authaira royal line, and the members of government. This is the most major event of the year for the city, where various festivals to natural deities are held to calm the elements of nature for the coming months of the year.

It is limited in the amenities provided by the large city districts in the other areas of the nation, but it has a high level of culture and certainly is a nice place to visit in spring, for lovers of nature and shear fun this is certainly the first place to visit.

Rating: 4 ½ Stars
External Links
Edit
Ad blocker interference detected!
Wikia is a free-to-use site that makes money from advertising. We have a modified experience for viewers using ad blockers

Wikia is not accessible if you've made further modifications. Remove the custom ad blocker rule(s) and the page will load as expected.